MADE IN
AMERICA

Big Sky's focus is high-quality, machined, quick-release fasteners. Our success comes from listening to our customers and providing the best value in the world.
OUR MISSION
Manufacture the highest quality quick-release fasteners in the world
Develop long-lasting relationships with our customers and vendors
Price our products competitively and continually improve our processes
Provide our customers the fastest lead time in the industry

CAPABILITIES
IN-HOUSE CAPABILITIES
2, 5 and 10-axis CNC chucker lathes
7 and 9-axis CNC Swiss-style lathes
3 and 4-axis CNC milling with robotic tending
Centerless Grinding
CNC polishing
Electropolishing
Heat treat
Engraving: laser & machine
Vibratory deburring
Assembly
Engineering design
Testing
Prototypes, pre-production, hi-volume production
Kan Ban system
Lean production and practices
ISO 9001 Compliant
OUTSIDE VENDORS
NIST Test lab (Montana State University)
Surface treatments: Anodize, PVD, Nickel, Chrome, Zinc, Gold, Black Oxide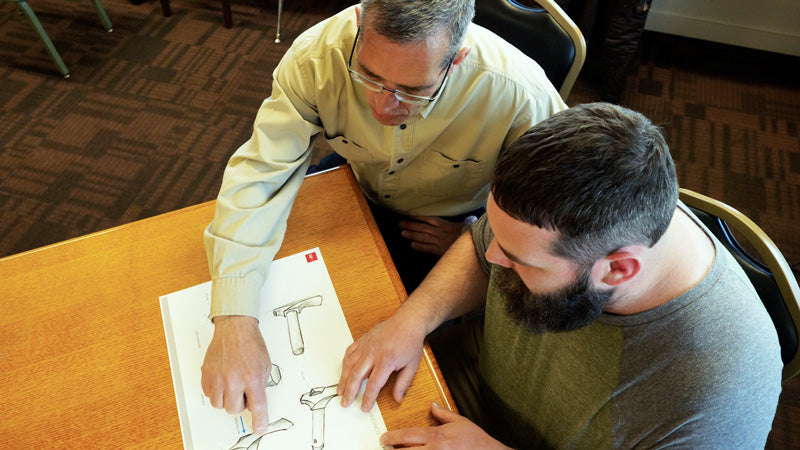 HISTORY
Strangely enough, the genesis of Big Sky Precision™ starts with the 1988 film Tucker, starring Jeff Bridges. The optimism, creativity and courage of this character inspired me to reach for the fruit of self-employment. But at 27 years of age with a wife, three kids, and a mortgage, the steady income from my mechanical engineering job was a strong retainer. After a failed partnership in the pottery business and a successful yet brief time harvesting tree bark, I returned to my love of building things.
As an engineer, I marveled at how I could give a machinist a piece of paper and he would return a three-dimensional part with exacting tolerances. To me, "fracturing metal" (as machinists call it) to make the finished piece was at least as exciting as the initial design of the product. Through relentless cajoling, prayer and stubbornness, I was able to convince a machinist to quit his steady job and partner with me in a new venture, and I was soon on the fast track to learning the trade. I will be forever indebted to my partner at that time who loved teaching and endured my over-enthusiasm.
Although I enjoyed machining complex parts for other manufacturers, I longed to focus on a proprietary product. In 1998, I saw the opportunity for this when a local manufacturer brought us a quick-release wheelchair axle. "There are three main suppliers of this product," he explained, "Not one of them can combine the three 'must-haves:' consistent, high-quality parts with reasonable delivery times and a fair price. And none of them has decent customer service." I instantly fell in love with this product — Elegant, user-friendly and secure. Plus, the potential applications were endless. Thus we embarked on a two-year journey of testing, development, patents and market research.
Our growth during this time still amazes me — over 300% increase in revenue in four short months! It was an exciting, frenzied time not without bumps in the road. As our proficiency in quick-release technology grew, more and more manufacturers sought us out for custom solutions — Our answer was always "Yes!"
Now we have settled into our mission to create customized, American-made technologies of the highest quality; develop long-lasting relationships with our customers and vendors; offer competitive pricing and continually improve our processes; and provide our customers with the fastest turn-around time in the industry.
Thank you for your business!
-Paul Chausse, President
OUR TEAM
Paul Chausse, President (BSME)
Our founder started Big Sky Precision™ in his 400 square foot garage in 1993.  A computer junkie, Paul teamed up with an old-school machinist who avoided computers at all costs.  This marriage was the genesis of Big Sky Precision™'s CNC machining enterprise.
He likes skiing with his wife of 37 years, photography, the NFL (go Pack, go!) and hanging out with his 5 grandkids.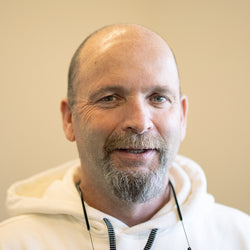 Dale Houska, Vice President, Marketing
Dale was born in South Dakota, raised on the plains of Wyoming and moved to Montana in 1986.  He has 33 years experience working in manufacturing and sales.
During the summers (when not working) you can find him on the oars of his raft negotiating most of the rivers in Montana with his family and friends.  Dale is also an avid hunter and woodworker.
Jonathan Chausse, Vice President, Production
Jonathan Chausse grew up in beautiful Montana, running around hiking trails, stubble fields, and the machine shop at BSP. Jonathan has always loved working with his hands. He has been machining for 10 years, 2 years as a machine operator at BSP, 2 years making hydraulic cylinders, and 6 years as production scheduler and programmer for BSP. Jonathan enjoys raising his 4 young children, making wood fired barbecue, playing board games, and reading good books.
PJ Snider, Production Manager
P.J. has more than a decade of experience in personnel management. Quality systems and LEAN manufacturing principles are a core part of his management style. Outside of work P.J. enjoys backpacking with his wife, hiking, climbing, and fishing. 
Patricia Satre, Assembly Manager
Pat has 35 years in manufacturing management including plant management.  "I truly enjoy working at Big Sky Precision™ - it is one of the happiest teams I have worked with throughout my career."  When not working, her favorite recreation is anything that involves family and friends. She loves making memories with her grandchildren and great grandchildren!!
Marie Apple, Assembly Supervisor
Marie is a Montana Native with over ten years experience in the printing industry. She recently changed gears and loves discovering the boating world within Big Sky Precision™.
She enjoys spending time with her husband, four children and all their animals. She and her family love being outdoors in the woods hunting, fishing, camping & dirt biking/four wheeling along with being at the lake & traveling. You can find her Sundays watching her favorite NFL team. GO CHEESE HEADS!!
Karen Eyman, Office Manager
Karen has been with Big Sky Precision™ since 2014.  She has been in the administrative business for over 30 years and enjoys being part of this amazing company.   She loves going on Jeep trail trips with her husband and two sons and taking her dog (Teagan) for walks every day.  
Nathan Blomback, BSME, Engineering Manager
Nathan grew up in Manhattan and loved being part of this small community. Upon graduation, he joined the Marine Corps as a MV-22B "Osprey" crewchief where he learned to communicate between pilots and mechanics to make both lives easier. After his honorable discharge he returned to the community he loved to become an engineer and help make peoples' lives easier. He likes long walks, video games, and daydreaming of fictional places.
Dillon Hoppe, CNC Maintenance Manager
Drawn to turning wrenches and fixing anything he could get his hands on, Dillon joined the United States Marine Corps in 2013 as an Automotive Maintenance Technician. After serving 5 years, he returned home to Montana and begin the endeavor of learning to repair and manage the maintenance of all CNC machines for Big Sky Precision.™ He enjoys camping and hiking with his wife and 5 furry children, dirt track racing, competition shooting, hunting, and coaching the Manhattan Tigers wrestling team.