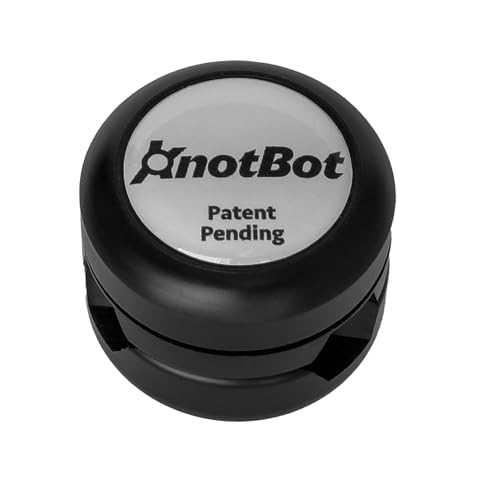 KNOTBOT
$24.95
PHENDER PRO KnotBot Boat Fender Rope Adjuster (NO FENDER ROPE)
WITH VERSATILE BOAT FENDER LINE Crafted to effortlessly accommodate both 3/8-inch and 1/2-inch ropes, this boat fender adjuster offers unmatched versatility for your docking needs. Plus, it comes complete with a 1/2-inch fender line rope for added convenience
SECURE AND RELIABLE SETUP: The dock fenders adjuster's mechanism lets you effortlessly adjust rope lengths with precision ensuring a secure setup while preventing parts from being lost.
BUILT TO WITHSTAND: This boat docking adjuster has been pull-tested to handle forces up to 400 lbs on 1/2" rope. No matter what conditions you're facing, its robust durability to keep your boat fenders in place.
RESISTANT TO ELEMENTS: Crafted from high-quality Delrin and 316 stainless steel, our dock fenders are engineered to resist rust and corrosion. Perfect for marine environments!
GENTLE ON SURFACES: Thanks to its soft dome and rounded edges, this minimizes the risk of unsightly scratches or damage, leaving your boat looking as pristine as ever.
Introducing the KnotBot Boat Fender Rope Adjuster – your ultimate solution for hassle-free fender adjustment. Say goodbye to intricate knots and worries about scratches on your precious boat's surface. This innovative accessory, designed with boat enthusiasts in mind, takes the headache out of fender positioning thanks to its effortless mechanism. Tighten or loosen ropes confidently, knowing that no parts will go missing, ensuring a secure setup even in the face of challenging conditions. And don't just take our word for it – this adjuster has been pull-tested to an impressive 400 lbs strength. Crafted from materials that defy rust, this adjuster is your ally in marine environments where water and salt exposure are constant companions. Count on its durability to weather the elements and keep your fenders perfectly placed! The soft dome and rounded edges of the KnotBot Boat Fender Rope Adjuster ensure that your boat's surfaces remain unmarred during fender adjustments. No more worrying about unsightly scratches – this accessory preserves your boat's aesthetic appeal. Seamless Fender management is at your fingertips with the KnotBot Adjuster. It's remarkably easy to use – just attach, secure, and adjust. Whether you're docking, anchoring, or mooring, this adjuster enhances your boating experience by simplifying a critical aspect of boat management. It's not just about convenience; it's about efficiency and aesthetics too. From boat accessories to boat bumpers, pontoon boat accessories to boating accessories, this adjuster fits right into your needs. It's the boat fender solution you've been waiting for – so secure your fenders with confidence, upgrade your boat's aesthetics, and sail on knowing your investment is well-protected!
100% LIFETIME WARRANTY
We're convinced you'll enjoy your Phender Pro® Quick-Release product for a lifetime.
Phender Pro® Quick-Release products are made in America, right in Manhattan, Montana. We hope you share our confidence and pride in your Phender Pro® product, knowing the best is securing your prized possessions. If your Phender Pro® product ever fails for any reason, we will replace it at no charge.